Visit Beck Antiques and Jewellery by clicking here
"Happy homecoming for Luigi statue stolen from Edmonton antique shop in the summer"
BY ANDREA SANDS, EDMONTON JOURNAL JANUARY 20, 2015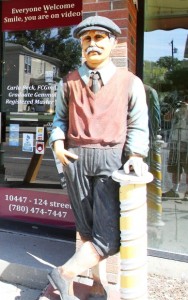 When Clinton Beck opened the front door of his jewelry shop to welcome customers Monday morning, a two-metre-tall surprise guest was peering in at him through the window.
A wood-and-fibreglass statue named Luigi, which had stood for about 10 years outside Beck Antiques and Jewelry, was back after a mysterious six-month absence.
"I was shocked to see him," Beck said Tuesday morning.
"There's not a scratch on him. He looks identical to when he left."
Luigi disappeared June 25 from his regular post, standing just left of the shop's front door at 10447 124th St. and facing the street.
Luigi was popular with customers and passersby, who often stopped to pose for photos.
Staff had forgotten to wheel Luigi inside the night he was stolen, Beck said.
On Monday morning, Luigi made a happy homecoming,
"He was on the right side of the front door, and he was looking in the window instead of facing out," Beck said. "We moved him right back to where he was supposed to be and he's standing out there right now, facing the street. There was no note or anything attached to him. He was just there."
It looks like Luigi was well taken care of while he was gone, Beck said. The statue, with a grey moustache, newsboy hat and sweater vest, was clean and dry when he returned.
Beck thought Luigi would come home sooner, since he isn't easy to conceal and there was lots of publicity when he went missing. "It's sort of a hard thing to hide."
The statue barely fits through a door and whoever returned it likely needed a truck to haul Luigi home, Beck said.
"But we're not asking any questions. We're just happy he came back."asands@edmontonjournal.com
Twitter.com/Ansands
© Copyright (c) The Edmonton Journal